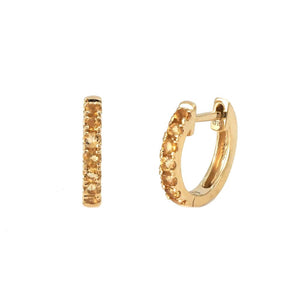 The birthstone of November, citrine is known to promote creativity, encourages self expression, and motivates. What better way to bring citrine into your life than wearing them your in your ears?
14k Solid Yellow Gold
Total Carat Weight: 0.23 (per pair)
Citrine

Sold as either a single or pair
Length: 10mm
Snap post closure
We wear these huggies in our second or third hole, but they're big enough in diameter to wear in your first hole.
Please allow up to six weeks for delivery.